51Fest Alum "For Sama" Gets Oscar Nomination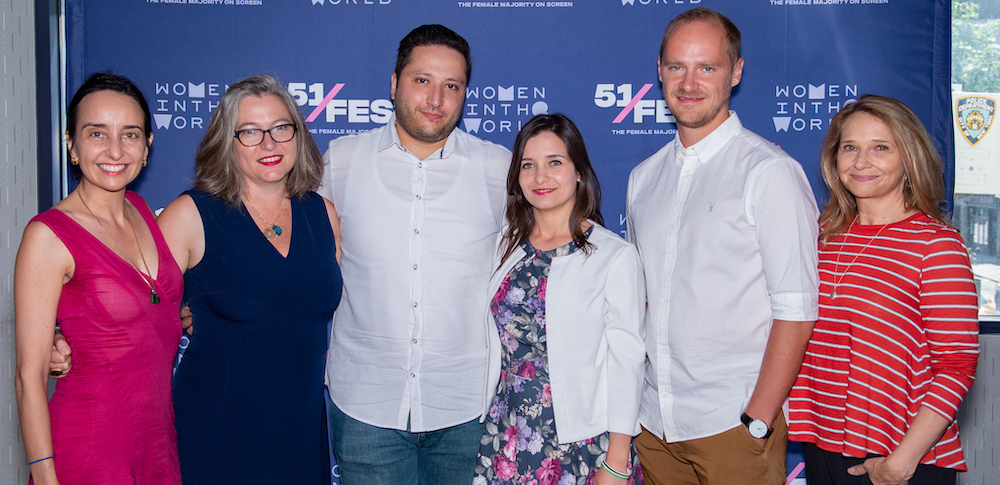 For Sama, the feature documentary directed by filmmaker Waad al-Kateab and Edward Watts has been nominated for an Academy Award® in the Best Documentary Feature category.
We screened the film at our inaugural 51Fest last July and are thrilled to see the filmmakers received this incredible nomination. Below is a synopsis provided by PBS Frontline:
An unforgettable story that unfolds as a love letter from a young Syrian mother to her daughter, For Sama aired on FRONTLINE in November 2019 following a decorated theatrical release in the summer 2019 by PBS Distribution. The feature documentary is produced by Channel 4 News and ITN Productions for Channel 4 and FRONTLINE (PBS). The acclaimed PBS documentary series FRONTLINE is produced out of WGBH/Boston.

For Sama offers a gripping, first-person account of one woman's experience of the Syrian conflict. Documenting her life over five years of the uprising in rebel-held Aleppo, al-Kateab falls in love, gets married to one of the last practicing doctors in the city, gives birth to Sama, and says goodbye to her beloved — and besieged — home, all on camera.

"We are so delighted and honoured to be nominated for an Oscar, alongside these incredible films and filmmakers. It is a moment that we had never imagined on a journey spanning 9-years — from near death to new life," say directors Waad al-Kateab and Edward Watts. "We hope that the nomination will encourage as many people as possible to go and see the film and learn the true story of the Syrian conflict. And we ask them to remember that what they see in the film is still happening today in Idlib, the last part of Syria outside the control of the Assad dictatorship, where hospitals, schools and children are being bombed by the regime and its Russian allies every day."

"Waad humanizes the experience of the ongoing Syrian conflict in a way that we can all relate to. She offers a rare look at what it means to be a mother living in a conflict zone," says FRONTLINE's Executive Producer, Raney Aronson-Rath. "We are so proud of Waad and Ed and thrilled to see the film recognized by the Academy with this nomination. We share this honor with our partners at Channel 4, Channel 4 News, ITN and PBS Distribution."

"Three years ago, we thought Waad would not make it out of Aleppo alive. Today she has been nominated for an Academy award- together with director Edward Watts and the For Sama team," says Nevine Mabro, deputy editor of Channel 4 News. "All of us at Channel 4 News, Channel 4 and ITN Productions could not be prouder of her and this incredible achievement. It is a very special day and a great day for journalism."

"Channel 4 is incredibly proud of Channel 4 news for nurturing Waad over so many years, and honoured to have commissioned this film from such an incredibly talented first-time filmmaker," says Siobhan Sinnerton, commissioning editor for news and current affairs at Channel 4. "She and Ed have produced an unforgettable film. This has been a hugely collaborative effort and we thank all our wonderful partners."

"For Sama is a testament to human resilience, and the extraordinary bravery to bear witness in the face of war," says Jon Abbott, President and CEO of WGBH. "This recognition from the Academy for Waad, Ed and our colleagues at FRONTLINE is exciting, and affirms our public media mission for honest, in-depth journalism."

"As America's home for documentaries, public television is committed to sharing stories that deepen understanding and foster conversation. With For Sama, Waad, Ed and FRONTLINE have delivered an extraordinarily powerful film that bravely explores issues of war and conflict with incredible depth, humanity and empathy," says Paula Kerger, President and CEO of PBS. "On behalf of all of us at PBS, we congratulate our colleagues for this well-deserved recognition by the Academy."

One of the year's most critically acclaimed documentaries, For Sama has been honored with over 50 prestigious awards — including winning Best Feature at the International Documentary Association Awards; the Prix L'Œil d'Or for Best Documentary at the Cannes Film Festival; the Grand Jury Award for Best Documentary at the 2019 SXSW Film Festival; and the Special Jury Prize – International Feature Documentary at Hot Docs. The New York Times called For Sama "gripping," and The Hollywood Reporter called it "deeply powerful" and "a rare firsthand account of war from a strictly female perspective."

This is the first Academy Award nomination for both Waad al-Kateab and Edward Watts, and the second academy award nomination for FRONTLINE.